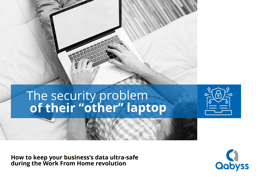 Love it or hate it, hybrid working is here to stay.
As a nation, we've really embraced the changes forced upon us by the pandemic. Many businesses have become more flexible with a mixture of office-based workers, hybrid workers and fully remote workers.
We had no idea that we could change so much, so quickly, did we? Work just doesn't look the same as it did in 2019.
And because of that, cyber security in 2022 doesn't look the same either. When you have people working away from your office you need to take additional security measures to keep your data safe.