Embarking on a business transformation through technology requires a good understanding of these 10 questions.
Question 1
Could IT make new competitors more agile and gain more market share?
There's no doubt about it—technology is a competitive weapon. Companies can use it to solve critical problems, slash time-to-market, build barriers to competitor entry and even, sometimes, to completely reinvent the way business is done in an industry. From grooming (Dollar Shave Club) to bookselling (Amazon), the restaurant industry (Deliveroo) to banking (Starling, Revolut), traditional players have had to catch up or die. Where are your competitors in the race to innovation?
When boardroom planning for digital evolution, a SWOT or competitive analysis is a good place to start. This will tell you where technology fits in your enterprise—will it play a support role or does it sit at the core of your competitive survival? From there, you can determine the right level of budget for your project and how drastic your timelines need to be.
Questions to ask about your competitive environment:
What are established and emerging competitors doing?
How would a technology investment add value to your products and services?
How can you use SME digital transformation to defend your position or capture market share?


---
Question 2
In which parts of the business would IT have the greatest impact?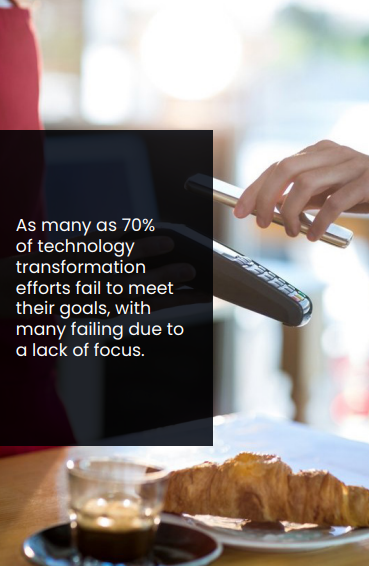 Technology has the power to automate processes, improve productivity, improve staff collaboration, increase revenue streams, reduce operating costs, deliver better experiences to customers and unlock the power of your data. But it's naive to think that all parts of the business will benefit equally. Both Forbes and the Harvard Business Review have found that as many as 70% of technology transformation efforts fail to meet their goals, with many failing due to a lack of focus.
Instead of trying to implement a sudden, across[1]the-board change, ask yourself, what are the specific areas where change is needed? Think about the ability to have employees work As many as 70% of technology transformation efforts fail to meet their goals, with many failing due to a lack of focus. from anywhere, anytime and on any device, for example. An investment there would make sense for most businesses because you're raising productivity, staying agile in the face of disruption, and potentially saving business costs.
The message here is don't try to boil the ocean. Step-by-step transition should be considered over the 'big bang' approach. Focusing on the areas of greatest need will make it easier to expand organically as staff will be able to see clear benefits as you re-orientate to something new.
Questions to ask about your technology roadmap:
What are the big-impact areas where change is needed?

How can we use the least amount of effort and resources to do the greatest amount of good?

---
Question 3
Why should we do this now?
Technology isn't something you invest in for its own sake. It should serve a purpose. This could be to streamline your processes, identify new customer segments or address specific problems within your company. Are your sales reps at breaking point, crying out for CRM and sales automation tools? Can you no longer justify the prolonged periods of downtime that your manual systems are creating?
Before anything else happens, everyone in your organisation has to agree on what the fundamental problem is and why it needs resolving now. A GAP analysis can help you identify and define areas that you can improve with the right technology investment, and this knowledge goes a long way to preventing scope creep.
Questions to ask about your technology triggers:
What has prompted the shift to a business innovation through technology?

What problems are you trying to solve?

Have you identified the 'gaps' between your current state?
---
Question 4
How will technology enable core business?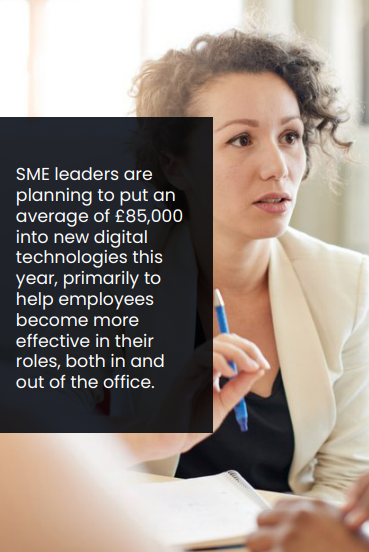 Compared to even five years ago, companies are investing more in technology to gain critical process efficiencies—in other words, to facilitate day-to-day business operations. These might be activities undertaken by administrative support teams, such as finance and HR, or they might be core business processes, such as facilitating the ordering-to-cash steps in a manufacturer's process
Helping employees to be more effective in their roles is perhaps not the sexiest type of business innovation, but it is a hot topic—especially when managing dispersed teams that may never fully return to the workplace. SME leaders are planning to put an average of £85,000 into new digital technologies in 2022, research by alternative lender Nucleus Commercial Finance suggests, primarily to help employees become more effective in their roles both in and out of the office.
Questions to ask about core business:
What specifically do you want SME digital transformation to support? For example remote work, reduced call centre volumes, 5,000 labour-hour savings, improved process speeds?
What KPIs are in place to measure these items?
How will you know if the investment is working?


---
Question 5
How will technology help us achieve our vision and strategic goals?
When you're in the trenches and competitors are firing shots at you, it's easy to lose sight of your long-term objectives and focus on the immediate need. However, knee-jerking your way into a tech solution that only solves one urgent problem cannot be the driving force of your boardroom planning for digital evolution. Before significantly investing in a technology, you need to be sure that it aligns with your vision— or else there is no business innovation, just technology injection.
A simple example: Your vendor contracts are the same-old, same-old even after spending money on a contract management system because you shifted the old processes into the new software. And so the old problems remain.
In an ideal universe, your technology strategy and business strategy will sync like clockwork. It should be a symbiotic relationship, with the business side articulating the strategic goals that technology needs to support, and the tech side fully attuned to the company's long-term needs and challenges. Boards should work with the vendor to understand how the technology will support the business to where it wants to go.
Questions to ask about your strategic goals:
What are the strategic opportunities of investing in technology?
Have you defined a long-term strategy that is focused not on where the company "is going" but where it "can go"? How could tech support this journey?
Have you assessed the opportunities across a multi-year timeline?
---
Question 6
What do customers expect from us, and how can we use the full potential of technology to transform their experience?
When it comes to hyper-personalisation, speed of response and customer experience, Amazon sets a high bar. For over 20 years, the retailer has been elevating customer service expectations in nearly every vertical, including B2B, because of its unparalleled ability to know the customer and deliver exactly what they want on demand.
Clearly, your customers don't expect you to be Amazon. But they increasingly expect you to deliver a personalised, fast and frictionless experience across all touchpoints. A study by Arise indicated that 80% of customers expect a response from customer service within a day, and 37% – almost four in 10 – want a response within one hour! And they are far less likely to repeat their business with you if you don't meet these turnaround times.
In every industry, your customer experience is the main differentiator between you and your competitors. So ask yourself, will technology improve our customer service? If the answer is 'no' or 'maybe', then it's time to step back and rethink your plans.
Questions to ask about your customers:
Across your industry, what kind of digital experiences keep customers coming back for more?

How do your customer interactions compare with other leaders in your industry?

What's your route to continual service improvement?
---
Question 7
Have we understood the cost of technology transformation?
Most boards are familiar with the benefits of the cloud—lower infrastructure costs, automatic software updates, access to greater 'horsepower' to perform robust calculations, and scalability as you quickly add or remove users, for example. Crucially, there is no need to buy, store, and maintain your own servers with cloud services and the SaaS applications that use them. This changes the cost base from an upfront capital expenditure to a predictable monthly lease cost, thus removing a lot of board scepticism about the cost of a technology investment.
Despite the fact that many workloads have migrated to the cloud, costs, whether one-time or ongoing, must be reviewed in their totality. You don't want to spend £30,000 on new, state[1]of-the-art laptops for your hot-desking workers, only to realise that you don't have the cloud infrastructure in place to support them, for example. Do you have a sufficiently expansive view of the costs involved?
Questions to ask about costs:
What is the cost impact of the change?
Can the business carry this cost comfortably?
What budget constraints might hold us back?
What are the implications of doing nothing?


---
Question 8
Are we comfortable with our level of technology risk?
Cyber security is a real and growing issue. Four in ten businesses (39%) report having breaches or attacks in the last 12 months, according to the government's Cyber Security Breaches Survey 2021, exposing SMEs to £25,700 in basic 'clear up' costs every year. Factor in reputational damage, and the true cost is likely to be much higher.
While these are eye-watering statistics, cyber attacks are just one category of technology risk. Digital opens pools of risk in areas as diverse as:
Data privacy and GDPR
Software failure
Integration risk, where your various platforms do not 'talk' to each other
Locked-in situations, in which a single vendor has control over your interactions because, for example, your data resides in a proprietary system
It's easy to let worries about security stop a business innovation in its tracks. Instead, your boardroom planning for digital evolution should include a broader conversation around risks and benefits, identifying vendors that can shoulder the dual burdens of performance and security. Where risks are hard to benchmark, bring in outside experts to help you understand the threats and mitigate accordingly.
Questions to ask about risk:
Do we understand the total pool of risks we might face?

How does this align with the company's risk appetite?

Who is responsible for monitoring risk and balancing offence vs defence?
---
Question 9
How do we get everyone on board?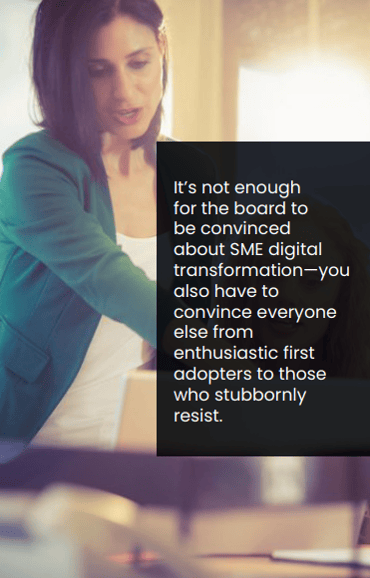 According to the 2020 SaaS trends report, the average company wastes around £100,000 ($135,000) annually on SaaS tools they don't really use. Some of that stems from paying for multiple tools to solve the same problem, but a lot of it is down to a lack of buy-in. This potentially is the biggest risk in terms of poor functioning, wasted time and poor ROI.
In other words: it's not enough for the board to be convinced about SME digital transformation— you also have to convince everyone else from enthusiastic first adopters to those who stubbornly resist. Fundamentally, new tools must fit the team. By speaking to your users and identifying the choke points that technology will solve, you'll have a much easier time persuading the users exactly "what's in it for them." Actively assembling a few change-champions can also help you establish a culture of adoption and create that much[1]needed bubble effect from the bottom up.
Questions to ask about costs:
What are the biggest barriers to buy-in? Where are we likely to see resistance from the user base?
How will we sell the narrative and overcome the choke points, both internally and externally?
Have we set aside a training budget to guide staff through the transition?
---
Question 10
Are we actually doing this, or just talking about it?
For business changes of any substance, there will have to be a roadmap to implementation. Some implementations can be carried out alongside regular activities with flick-of-a-switch efficiency. Others—like introducing a full-scale ERP that will underpin your operations for years to come—may require a dedicated project team to supervise the roll out. You'll have to decide which approach is right for your business.
To get from point A to point B, you'll need to know who owns the project. Is it the MD? The IT team? Is it you? Be honest here. If you don't have the in-house resources or experience to fall back on, then you will need to rely on the vendor or hire a third-party expert to fill that knowledge gap. Either way, you'll need to make sure there's someone accountable for getting the systems up and running—or all your planning will be for naught.
Questions to ask about implementation:
Do we have the team capable of supporting the technology leap?
Who will take the lead, own it and be accountable for it—the company, the vendor, outside consultants?

What's the SME board-level attitude and aptitude for digital innovation? Do we understand the implications well enough to provide valuable guidance?

What do we need to do to make things happen?