For Liverpool the future is exciting!
Last week the Aabyss team attended the 2018 Liverpool City Region Digital Summit hosted by LCR Activate, and what an event it was.
The summit brought together leaders from the city's digital and creative community, as well as industry leaders from around the UK to discuss the importance of maximising growth opportunities within the sector, at a time when it's experiencing great economic change.
The conclusion.
Industry-leading companies all develop and implement transformative technology that allows them to adopt innovative business models, and produce exceptional products and services.
But we already know this, so what does it have to do with every business in Liverpool?
Well, every single one has just been given the opportunity to implement truly transformative technology like never before, and it involves 5G and a whole load of sensors!
Before we get into it, you may be wondering what exactly 5G is? Well in a sentence, its superfast "fifth generation" mobile internet. Even still you may be wondering how transformative can 5G really be. Well, you'll want to read this.
For many 4G may seem adequate but I'm sure we've all experienced the embarrassing moment you try and play a video for someone and it just refuses to load, or the frustration of attending a concert and receiving no signal. The 4G thorn in the side of your social life. But for businesses, a loss of service can mean disruption to mission-critical functions.
The prospect of 5G then becomes compelling when you consider its capable of download speeds that are up to 20 times faster than present. Similarly, its ability to carry enormous volumes of data is more than necessary as we sprint into the age of big data.
But this doesn't even scratch the surface of 5G's transformative power.
At the summit, Vodafone's UK head of Internet of Things (IoT) Daniel Winn was there to do precisely that, and It's a prospect every business will want to hear.
Opening, Mr Winn drew attention to the rapid speed and more reliable coverage offered by 5G. However, it was when he talked about Vodafone's vision to help customers leverage the potential provided by 5G in conjunction with the IoT, that people stopped to listen.
Mr Winn offered us a glimpse into a future where vehicles and products outfitted with hundreds of inexpensive sensors will be able to monitor performance in real time. But more importantly, accurately predict a problem before it arises and alerts its owner to the impending fault. While it would be easy to dismiss as cheap talk, the same conclusion is being drawn by the industry at large.
O2 recently released a report that estimates the ripple effect of 5G implementation will boost the UK's productivity by £3 billion a year.
The benefits don't end with mobility, quite the opposite in fact. The ability to turn our sedentary homes and establishments into truly intelligent structures has arrived. In the past stuffing a building with hundreds of sensors simply wasn't viable due to performance issues associated with 4G. With 5G's ability to process high volumes of data, reliably, efficiently and cheaply, it means 'always on' technology is now viable.
For the first time, a stable and positive ROI is possible using this technology. While this helps you and your business, the broader implications for society at large are genuinely profound.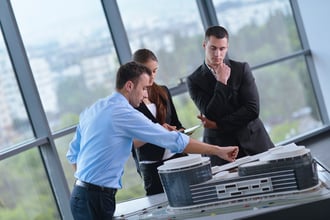 Just one, but pertinent example Mr Winn touched upon was a building's ability to monitor every facet associated with its energy consumption. Utilising similar methods, a building will be able to regulate its temperature autonomously in a more efficient manner. The consequences of this technology on energy consumption and the environment at large could be truly revolutionary. Given that some estimates have 70% of 5G service users being indoor venues, the capacity to tackle environmental issues has just received a very credible boost.
5G in conjunction with the IoT is going to allow us to monitor our environment and transform it like never before. For Liverpool, we are in a position to lead this revolution.
Not only will we be getting 5G before virtually everyone else, but we also have the industry-leading Sensor City, a global hub for the development of sensor technologies and rapid prototyping on our door.
Now technology changes rapidly in performance, price, format and design every year. Yet from a business perspective, we need to know what to invest in to deliver sales, while ensuring our customer service and experience is preserved, if not enhanced. We need to know which investment is going to stretch ROI as far as possible while minimising investment costs and risk.
What is clear with 5G is that it's not a prospective technology, it's a reality. Many emerging technologies may stutter as experts and industry debate its effectiveness and market application. 5G certainly isn't one of them. You will find very few technologies that instil such confidence and consensus. All major telecommunication networks have invested unimaginable sums, as has virtually any company whose products rely on their service.
The only risk you face is not investing fast enough! Recently Qualcomm's CEO Steven M. Mollenkopf told analysts that "transitions in wireless like 3G, 4G, and 5G are unforgiving to companies and competitors that are late to these transitions, especially in the initial ramp years."
Moving forward we can't simply be content being aware; we have to implement! Just as Liverpool led the way during the First Industrial Revolution some two hundred years ago, we can now help lead the way at the dawn of the 4th Industrial Revolution.
Our city and our businesses have an opportunity to lead the way in creating a truly high tech integrated city, built on a bedrock of date with the vision of improving communication, productivity, efficiency and the environment.
leading image: https://unsplash.com/free-stock-photos